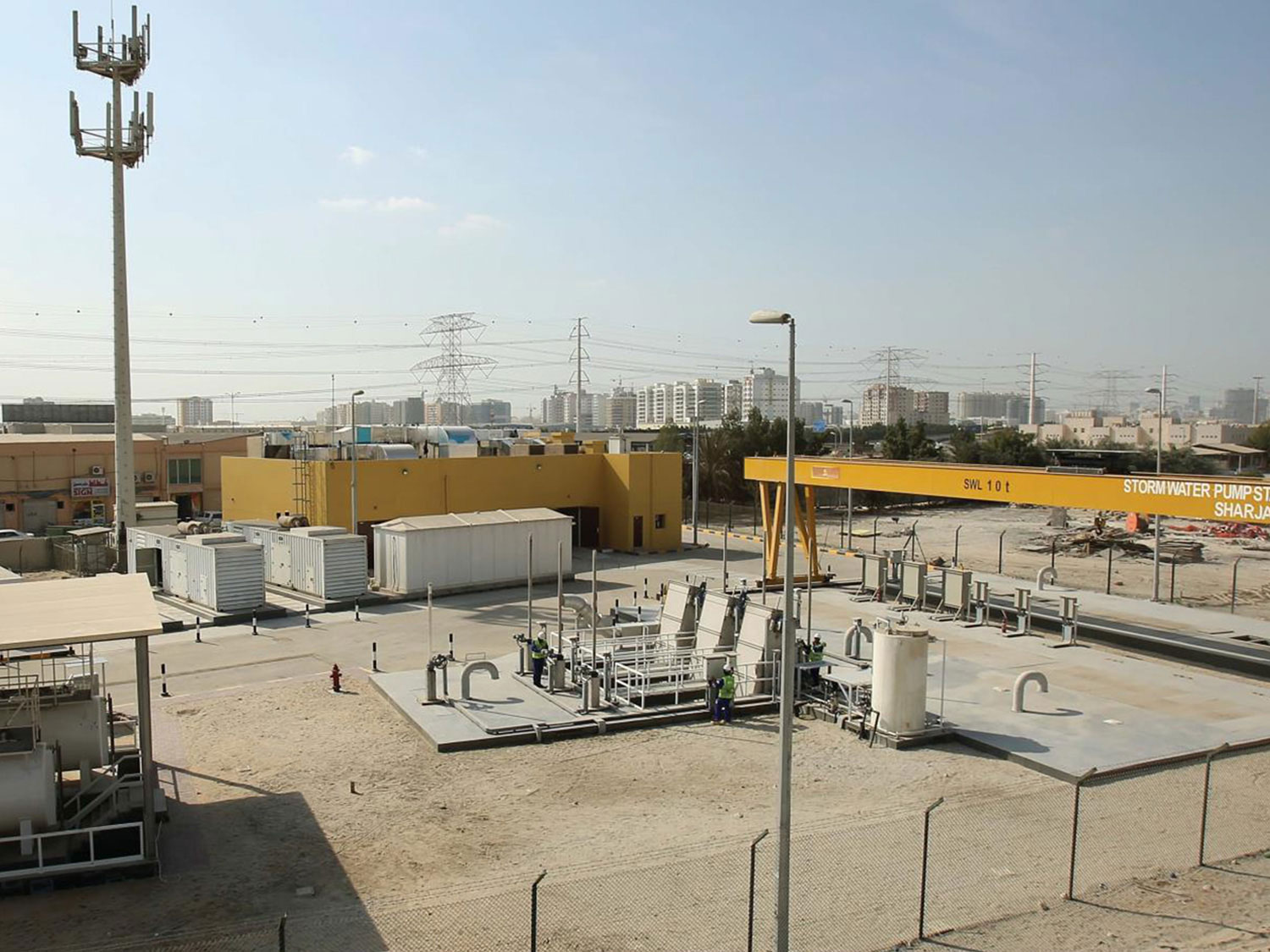 Storm Water Pumping Station - Sharjah, UAE
Introduction    
Aligning to its mission of achieving sustainable development in planning, establishing and maintaining infrastructure projects and optimising the national-housing the national-housing sector through outstanding performance, The Ministry of Infrastructure Development awarded Metito the project to construct PS1OB Storm Water Pumping Station and Rising Main from Sheikh Mohammed Bin Zayed Road to the Golf near Al Khan area.
This fourth phase of upgrading the Fifth Industrial Square in Sharjah is aimed at providing the city with a new Pumping Station and Rising Main for efficiently handling potential Storm Water in Industrial Area 5. The station has a total capacity of 345,600m3/day making it the biggest of its kind in the GCC.
Furthermore, the project features 1800mm diameter Rising Main to discharge storm water from a new drainage system at the E311 highway of the Fifth Industrial Square in Sharjah to the sea in Al Khan area.
Scope of Work 
The pumping station consists of an inlet screen area and three sumps: A, B and C.
These sumps are provided to host three different sets of pumps which discharge the collected storm water to the sea. Sump A houses Storm Water Pumps (SWP01/02/03), Sump B houses the Dry Weather Flow Pumps (DWFP01/02/03), and Sump C houses the future Storm Water Pumps (SWP04/05/06).
The inlet screen area consists of the following units:
Bar Screen installed at the inlet of this pumping station to avoid rubbish delivered to the pumping station. This screen must continuously be removed and cleaned to protect the pumps chambers.
Mechanical bar screens (SC01/02/03)
Screen screw conveyor(C01)
Screening compactor (CM01)
Washing water system which serves the Washing Pumps (WP01/02) and the Washing Water Storage tank (TK01)
Key Benefits
In case of floods, due to heavy rain during the winter season, the storm water drainage system will divert the storm water and rainfall to the PS10B Storm Water Pumping Station will then discharge it to the sea through the pipeline and outfall system. This will help ensure that no environmental, physical or other damages occur in the area's infrastructure and surroundings which makes it a progressive and sustainable solution that is both cost saving and preventative.